The Loopmachine is a project I have been working on for the past 3 years, combining hardware and software to create a new form of highly portable loop station, which doubles as a music studio.
It runs on Loopy Pro, an incredible app which allows the musician to create exactly the interface they need.
Loopy coaching
Private online Loopy coaching is possible. Contact me if you're interested. I can help you set up your own system, customized to your musical needs, with infinite possibilities. You can then build your dream, and ask me questions along the way. We will mostly concentrate on the software side (Loopy), but I can help you find the right hardware (microphones, interface etc) as well.
The idea
I have always dreamt of walking in the woods, and hearing the sounds of nature magically come into sync, the birds start bobbing their heads and sing together with the creaking of the trees and the croaking of the frogs.
With the LoopMachine, this dream becomes reality. I combine these sounds with my voice, beatbox, instruments… To create musical soundscapes. And all this can be done from the woods or wherever I am; no need to go back home to some high-tech studio.
Also, I can play shows, where people from the audience can hear their own voice instantly turned into to music. Lots of fun!
The hardware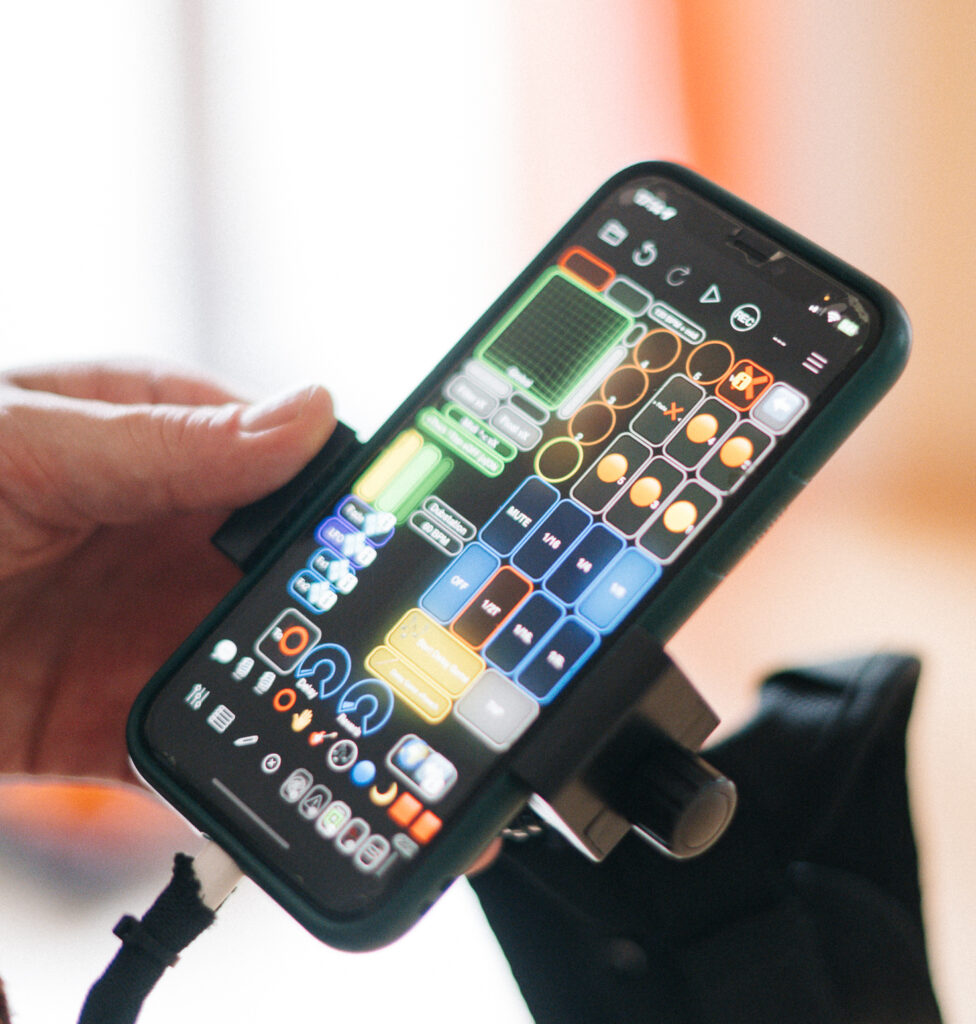 As much as possible, I try to use parts that people can themselves get, so they can build their own Loopmachine if they want.
After many complex iterations, I have simplified the Loopmachine down to very portable format, that can be worn on your shoulder. Depending on what I'm recording, be it birdsongs, my voice, or the soothing repetitive sound of a washing machine, I can plug any adapted microphone to the Loopmachine, so the sound can be instantly captured and turned into music.
The software
All this is possible thanks to an app that is changing the face of the musical Earth: Loopy Pro.
For the last 2 years, I have been helping out the developer, Michael Tyson, the genius legend behind Audiobus and Loopy HD.
Loopy Pro lets you build your own interface, to create music just the way you want. It can go from a simple practice looper, to a full professional live music performance tool and studio.
Working with Michael on Loopy Pro has changed my life. I remade everything from scratch using Loopy Pro and it has made my LoopMachine more powerful than ever before.
More info on the Loopy Pro website. If you have an iOS device (iPhone, iPad), you can download it here on the app store.
Here is the video of DubFX (who also worked on it with Michael and I and the team) showing it off at launch:
The future is bright!
Music!
I use my voice, singing and beatboxing, as well as body percussion and various traditional (and some less traditional) instruments.
In live performance, I use random objects, as well as the voice of people from the audience, who want to hear their voice transformed into music instantly.
Here are a few songs you can download for free. Enjoy!