In St-Cergue, Switzerland
Click here to see the full list of workshops and events we're organizing .
You can also join the Circlesinging WhatsApp and Telegram groups, here (open them on your phone):
Circlesinging
Improvised choir, using nothing but our voices, beatbox, and body percussion. In a circle with kind caring people, learn to let go of your fears and find comfort in situations that would normally intimidate you.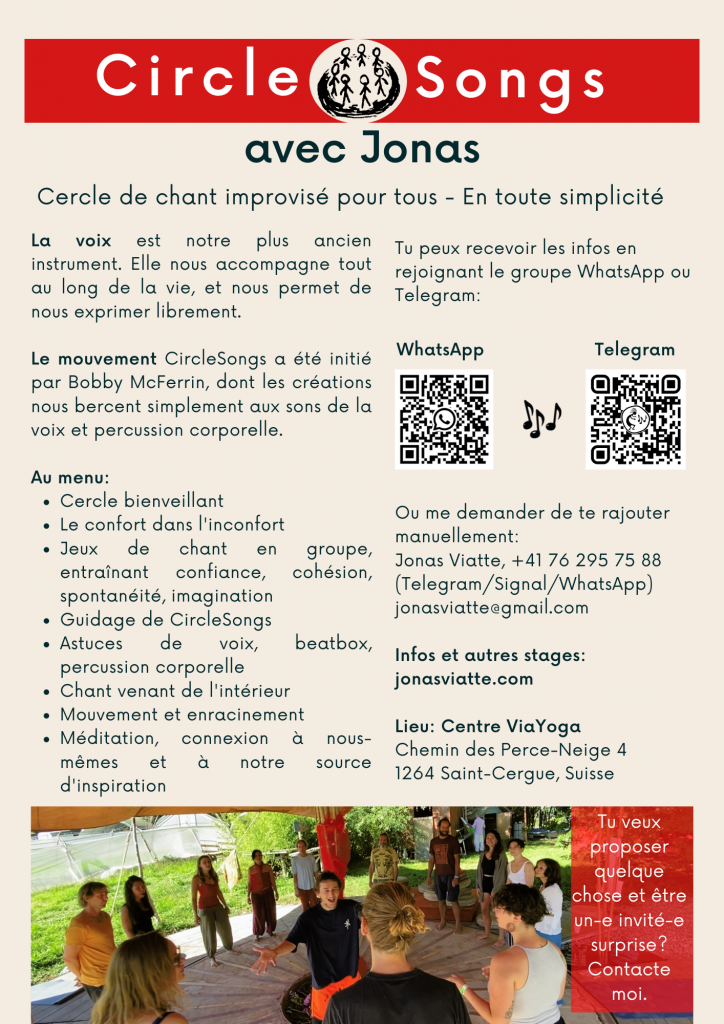 Workshops elsewhere
If you want to hire me for a workshop, a retreat, or a CircleSong discovery session, or a collaboration, feel free to contact me.
Possible workshop themes:
Roots in your life: Finding comfort in difficult situations, work on presence, direct honest communication (including non-verbal communication), movement and rooting exercises. Through CircleSongs, learn to trust yourself even when you feel you have nothing to bring.
From imagination to creation: Bringing your personal color into CircleSongs, drawing, meditation, imaginary languages and worlds.
Special voice techniques: Beatbox, overtone, throat singing, powerful singing, meditative singing along with a shruti or other drone instrument. And how to integrate these techniques in CircleSongs.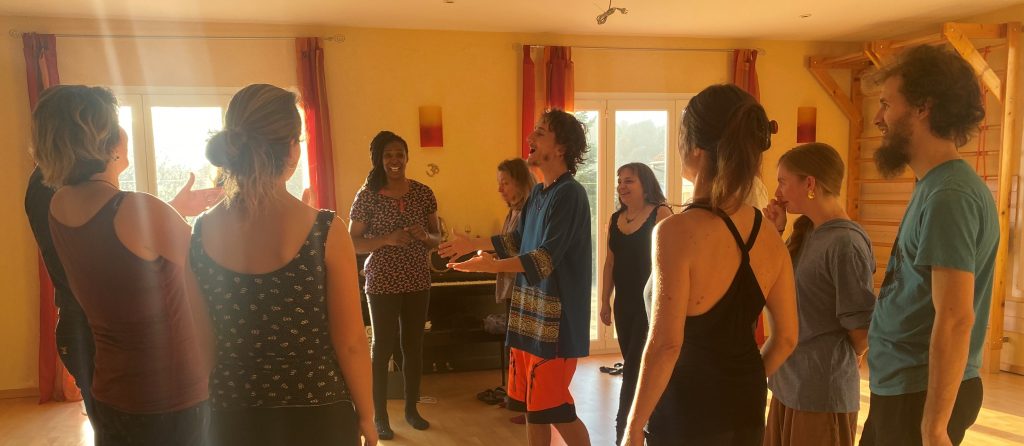 Looper life workshop
Live looping may be one of the most free way to create music on the spot, from your mind to your voice/instrument, to your machine. See the LoopMachine page.
The machine is like a multi-instrumentalist musician partner, who happily helps you out and plays just as well as you do.
In this future workshop I will teach the students how to compose live with your loop station, integrating tools that you won't even have to think about as you're creating your music.
But it's MUCH broader than this. We will create our own worlds and imaginary cultures and characters, who will help us create diverse music and art.
Private/group
Private lessons are possible too. Depending on your needs, we can work on different aspects of what I teach to groups. The price is the same is you're alone or with a few friends. That way you can share the price if there are several of you.
Voice and life
Singing games: Tools for improv singing, harmonization, and CircleSongs
Presence: Finding your roots and your comfort in different situations
Special vocal techniques: Beatbox, overtone, throat singing, powerful singing, meditative singing along with a shruti or other drone instrument…
Loop music
I can help you set up your iPhone or iPad as a portable loop station
You can then use it as a practice tool to sing with yourself
… Or you can expand it infinitely into a professional tool that you can use for live gigging
We will also practice musicality and creativity using these tools.
Didgeridoo
Learn an intuitive approach to didgeridoo
Rhythm blocks and patterns
Integrate tools and techniques into your playing while keeping it intuitive and natural
Learn to jam with other instruments (listen while you play)