In St-Cergue, Switzerland
Click here to see the full list of workshops and events we're organizing .
See the info in English on our website.
You can also join the Circlesinging WhatsApp and Telegram groups, here (open them on your phone):
Circlesinging
Improvised singing circles, using nothing but our voices, beatbox, and body percussion. This practice allows us to connect to ourselves, our creativity and the present, in a simple playful way.
If you speak French, click here for an interview Radio Rhizome made of me where I explain what CircleSinging is.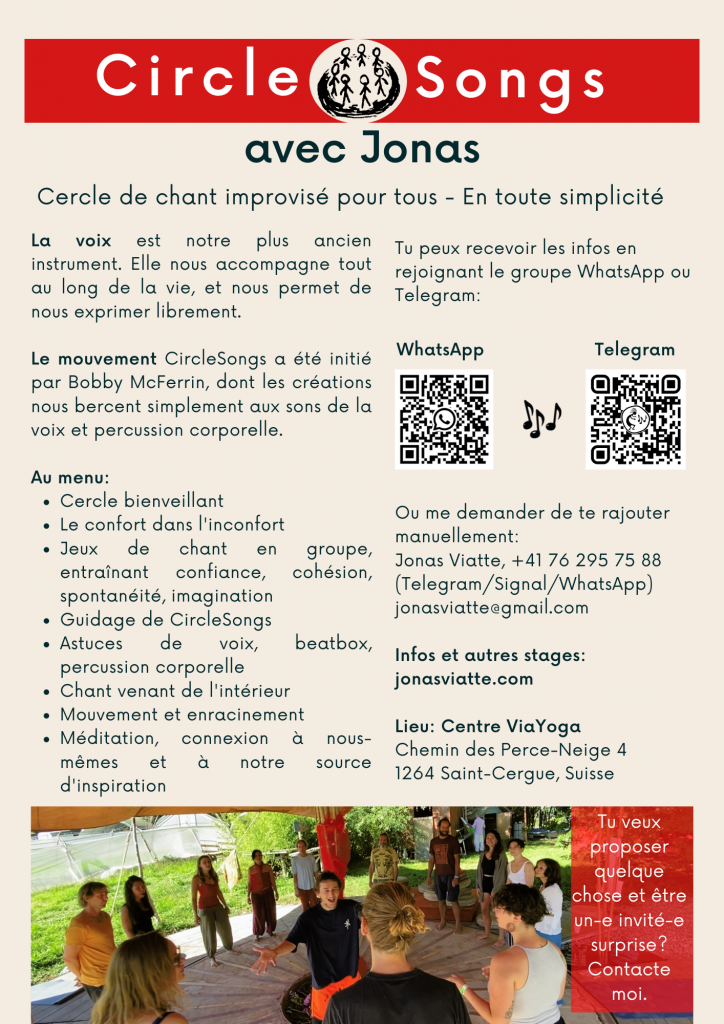 Workshops elsewhere
If you want to hire me for a workshop, a retreat, or a CircleSong discovery session, or a collaboration, feel free to contact me.
Possible workshop themes:
Discover CircleSinging: For any group motivated to sing together, in a friendly circle. Whether your group is just starting out with singing, or has another singing practice, this workshop allows you to train your intuitive musical ear, group cohesion, and to find comfort in improvisation and vocal solos. I will adapt to the group's level.
CircleSinging for choirs: If you have a choir and would like to get them to discover CircleSinging, you can offer them this workshop. This improvised and intuitive approach to music can complement the tools you have practiced as a choir.
Intensive CircleSongs: Dive right in to this magic practice. Learn to follow and guide CircleSongs. We will practice clear gestures, intuitive signs, musical transitions, presence at the service of musical creation, group cohesion, and creation of movement within CircleSongs.
CircleSongs, imagination, and letting go: Vocal improvisation games to let go of the mind. Enjoy following and guide CircleSongs while having fun and listening to yourself. Imaginary personas, worlds, and languages, at the service of CircleSinging. Sing who you are in this very moment.
In all these workshops, there will be an aspect of presence, meditation and deep listening, which I consider necessary for intuitive authentic singing. Beatbox and body percussion are generally also part of my teaching.
I adapt the teaching to the level and energy of the group. The duration can be of a short workshop, 1 to 3 hours, all the way to a full 5 day retreat.
If you're hesitating which workshop you would like to propose to your groups, you can call me at +41 76 295 7588 (WhatsApp/Signal/Telegram only).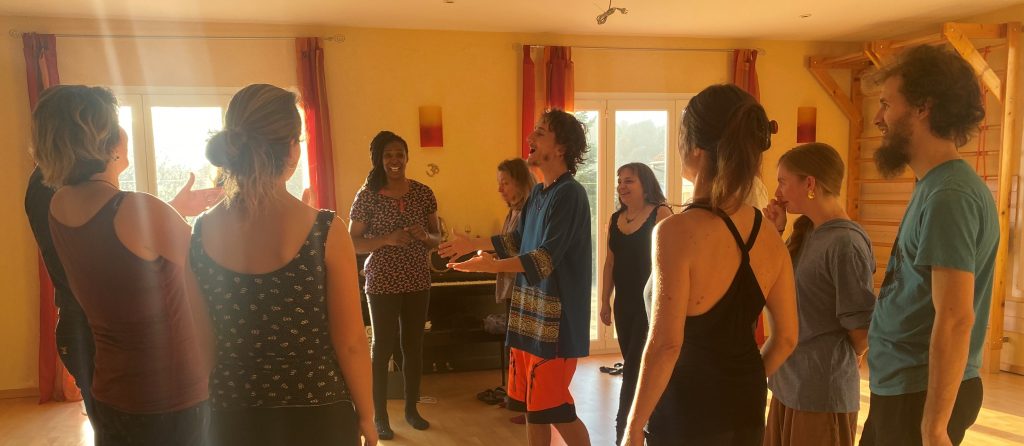 Private/group lessons
Private lessons are possible too. Depending on your needs, we can work on different aspects of what I teach to groups. The price is the same is you're alone or with a few friends. That way you can share the price if there are several of you.
Voice and life
Singing games: Tools for improv singing, harmonization, and CircleSongs
Presence: Finding your roots and your comfort in different situations
Special vocal techniques: Beatbox, overtone, throat singing, powerful singing, meditative singing along with a shruti or other drone instrument…
Loop music
I can help you set up your iPhone or iPad as a portable loop station
You can then use it as a practice tool to sing with yourself
… Or you can expand it infinitely into a professional tool that you can use for live gigging
We will also practice musicality and creativity using these tools.
Didgeridoo
Learn an intuitive approach to didgeridoo
Rhythm blocks and patterns
Integrate tools and techniques into your playing while keeping it intuitive and natural
Learn to jam with other instruments (listen while you play)